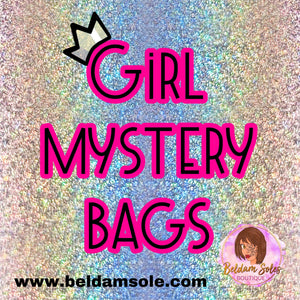 The girls' mystery bag could include ballet flats, t-straps, mary janes or any feminine print. They may include items that have not been on the site previously. 
Mystery bags are non-refundable and cannot be exchanged as they are a mystery ! They can be lots of fun.
Because these are already heavily discounted, no discount codes can be applies. 
Size 1-5 soft sole
size 6 and up hard sole  
Please Note- Size chart is of the bottom of shoe Not size of foot! 

True to Standard US sizes
It is best to order one size up for chunky feet! Sneakers are narrow 
Sneaker sizes differ from Ballet/tstrap but size fits the same in both because sneaker is long and narrow. Example my girls wear a 3, 13 and Y3 in both sneaker and ballet/tstrap/Mary Jane.